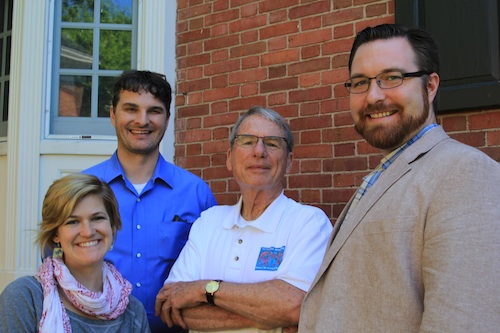 One Helluva Week
---
by Amanda Weber
It was one helluva week – so many ups and downs, prayers and songs, questions that called forth more questions, and vital community building among all who were present.  It may seem as though I am describing this year's Congregations Project Seminar at the Yale Institute of Sacred Music, as it truly was an intensive and formative week together, exploring the theme "from generation to generation" with seven unique congregations from across the United States.  Rather, I am reflecting on the passion narrative, a journey from Palm Sunday through Good Friday that transforms Jesus from King to criminal.  This story may be stale for some, having heard it year after year in a liturgical context that feels ancient and far away.  For others, the story of Jesus' trial and death is new and foreign.  How might we hear the narrative of Holy Week in a way that is both novel and relatable, an old story salty and salient once again?  Druid Hills United Methodist Church in Atlanta, GA is asking these questions and delighting in the creative journey to find some answers.
There are a few key elements which have inspired Pastor Dave Allen Grady, musician Gus Godbee, and lay leader Bill Duncan in their search for creative storytelling, articulated beautifully by faculty who guided this year's seminar.  Professor Maggi Dawn reminded us that liturgy (leitourgia) literally means the work of the people, and that worship is something that should be revealed in us, rather than something we construct.  Allowing for the spirit to move, intentional listening, and active participation in the gospel story are essential to a living, breathing liturgy.  Through various examples, Maggi showed how necessary the arts are to make old texts come alive.  She explained how the arts in worship serve as an inter-generational connection, inviting in people of all backgrounds.  Professor Don Saliers, the faculty liaison for the Druid Hills team, gave insight on the concept of exegesis, a theological buzzword most often referring to critical study and interpretation of scripture.  Don challenged us to consider what it means to exegete human life, which he explained to be part of the heart of the ministry of the church.  Exegesis, therefore, becomes an interaction with living communities rather than merely an examination of ancient texts.
These three goals - efforts to create something participatory, arts-infused, and connected to everyday life - led Pastor Dave, Gus, and Bill to design two reader's theater style worship services: Blue Christmas, a winter solstice service that acknowledges that, for many, Christmas is not a very happy time; and One Helluva Week, a Palm Sunday service which incorporates the stages of grief with Holy Week vignettes.  Both services are carefully crafted to combine scripture, music, and original text (written by Bill) in a liturgical fashion, involving many congregants and drawing a large crowd.  In this way, the Druid Hills community is creating a worship experience that is fresh and led by the people.
The Congregations Project seminar allowed the Druid Hills team time and space to evaluate the work they have done and ask some important questions.  Are there ways to include more and diverse people in the designing of such a worship service that would expand and therefore enhance the perspective?  How might the congregation be more involved?  What happens when you juxtapose certain texts and music?  What does this do in the long run, and what is the impact on the changing demographics of the neighborhood?  As our newly-formed seminar community wrestled with these questions, Pastor Dave threw one more iron in the fire.  Thinking about how the two pieces interact (one being at Christmas and the other before Easter), Dave realized, "This isn't a bookend, this is a triptych…we need a [third] piece that articulates resurrection, hope."  You could almost see brains lighting up as ideas were thrown around the room.
Everyone agreed this final piece should celebrate resurrection.  Ideas spurred more questions.  What will bear the weight of repetition?  How do we move from counting to measuring changed lives and witness in the world?  One thing seemed clear: Druid Hills has great opportunity at their doorstep.  They are a small congregation (150 different faces worshiping over 6 weeks) in a huge building (seating 800).  They have a preschool with 180 children, almost none of whom are part of the congregation.  They are situated in a neighborhood that is quickly growing.  The community is expanding around Druid Hills, and they have gifts to offer.
A final lesson we all learned throughout the week was the concept of framing, presented to us by Maggi.  How one introduces a worship experience such as One Helluva Week matters.  Finding the balance of providing access points without over-explaining the art is important, both for the congregation and for the participants.  The process of putting together such a project invites all into a mystagogical experience that, as Don Saliers pointed out, is truly sacramental.  Everyone involved enters in and receives.  But framing does not just occur at the beginning; how an intense worship experience is debriefed is also important.  We must not only offer deeply thoughtful liturgical moments, but provide the tools and space to ask, "What just happened?" and "How do I respond?"
Liturgical arts allow us to see, hear, touch, taste, and feel the gospel.  Imagine reading the gospel passage where the crowd yells to crucify Jesus.  Now imagine being an actor in a liturgical play where you are the one to yell this, to feign hatred and then to feel intense guilt and sorrow.  The story comes alive as our imagination bodies forth mystery, and the possibilities are endless.  It truly was one helluva week… Congregations Project, that is.  Minds and hearts were opened, brains were stretched, and souls were stirred.  What a joyful task Druid Hills has ahead of them to reflect on stories of hope and resurrection as they complete their holy triptych.  May they, themselves, experience resurrection joy in the process!