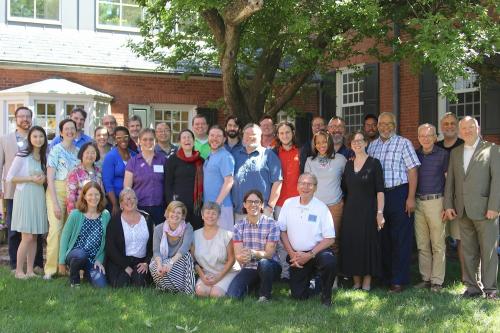 2015 Theme | From Generation to Generation
---
by Dorothy Bass
Congregations are among the very few places in our society where people of all ages gather together.  In any of your congregations we might notice a twelve-year-old who is full of questions and who lingers in conversation with mentors, as a young Galilean once did even though his parents had already headed home.  Or we'd see an adult who has been startled by something like a burning bush while going about her ordinary business and who ends up discovering that she has been summoned into a risky new way of life.  Or we'd see an elder who hangs out near the holy things every day, as Anna and Simeon did, searching faces for signs that God's promises are being fulfilled, and singing for and with the youngsters through whom God will shape the future.
Church leaders fret and pundits swarm when age spreads trend unevenly.  But always in principle, and often in fact, the old, the young, and everyone in between has a place if they want one.  Indeed, one of the names given to those who gather puts everybody on the same generational level:  all are children of God, united through Christ in a single generation.  At the same time, we remember and celebrate the many generations that have gone before, handing down practices of faith across the centuries as a precious inheritance. Christian congregations are comprised of multiple living generations in the present, and they depend on past generations now deceased, and they look to a future in which generations as yet unborn will embody the love of God and neighbor in and for the world. 
And yet, and yet … in society at large the word "generation" is often a flag of division.  I came of age during the years when "the generation gap" was widely touted and sometimes bitterly experienced.  Today specific generations—Boomers, Xers, Millennials—seem to be set apart by musical tastes, technological capacities, and fashion choices, and also—if recent reports are true—by a disinclination to affiliate with generation-spanning religious institutions. 
What is a generation?  On the one hand, "generation" is a term of kinship:  When Abraham begets Isaac and Ishmael, one generation emerges; each successive begetting begets an additional generation.  In this meaning, the succession of generations forms a cord that binds persons who are older and persons who are younger together, creating continuity over time. It might be a family, it might be a church, but either way, lineages pass things down:  songs, images, rituals, recipes.  Having a place in a line of descent allows individuals to understand who they are as part of a larger "we." 
In another meaning, "generation" draws lines between people who were born in different decades.  Here, a "generation" is a cohort of people born at roughly the same time into a historical situation that gives them common experiences.  The Greatest Generation, the Baby Boomers, the Millennials:  within each cohort individuals can think of themselves as part of a larger "we," though sometimes the cost is distance from people of other generational cohorts.
Unfortunately, both kinds of generation—the family tree kind and the age cohort kind—can become tribal and exclusionary.  A sturdy plan of succession or a really tight peer group might offer a kind of identity and security, but at times both need to be cracked open by the gospel.
The Christian educator John Westerhoff once asked a question that still resonates: "Will Our Children Have Faith?"   He urged congregations to become vibrant, formative communities of worship where the generation of memory and the generation of vision could teach and inspire one another.  A few years later, the biblical scholar Walter Brueggemann deepened Westerhoff's question by turning it around: "Will our Faith Have Children?" he asked.  Will our worship, our discipleship, and our witness in the world embody a faith that is generative, and affirmative of the life of creation?  Will we nurture a faith that is not tribally limited by kinship or age group—a faith that proclaims God's grace and reaches out toward God's new creation?
Every vital Christian congregation asks both of these questions in one way or another.  Will our children have faith?  Will our faith have children?  Both questions are urgent.  Vital congregations forge living responses to these questions in worship and ministries where memory and vision intersect, and where rising generations are invited into faith in a way that engages their struggles and hopes.
Your congregations live these questions and bear wisdom about how to respond to them. 
One team comes from a United Methodist congregation where older immigrants who speak little English and younger ones to whom old-country forms of piety and worship seem irrelevant gather weekly around the tables of Word and Meal.  This involves some creative adaptation of Methodist worship traditions—and a deep sense of Eucharistic connection to one another and to the wider church over time.
In one congregation, an ancient practice of the Eastern Orthodox tradition is being shared with a rising generation.  In this case, the team itself is deliberately intergenerational:  it includes a father (a priest and iconographer) and his son, a member of the college-age group with whom this art and devotion will be shared.
A congregation whose mission is to make God visible through the arts is gathering stories of transition and hope from people of many ages—at day care centers, in nursing homes, on the street—and weaving them together into a play that will help several generations to find their voices with one another and before God. 
A prominent congregation in a Minnesota town is seeking to move beyond the programmatic separation of different age groups.  While aware of many social forces that promote age-group segregation, they long for a deeper sharing of worship, music, and service across the several generations within the congregation.
In a town in the mountains of New York, a congregation is widening its circle of relationships, reaching out to embrace local artists, those in need, and the community of all creation.   
Two congregations are taking their annual remembrance of Christ's passion as a time to articulate in music and drama the pain, struggles, and hopes of people today.  Both projects acknowledge sorrows from which the larger culture often seeks to hide.  By recalling in song and liturgy the death and resurrection of Jesus Christ, these two congregations may help us all to remember the dying and rising that shape the dynamics of generations as such.  Were it not for death, generations would not exist.  The paschal mystery is embedded deep within the movement from generation to generation.
Each of your congregations occupies a particular place on the earth and is comprised of particular people.  Remember and treasure these during your days in New Haven.  Remember the frail elderly and the youngest babies, the teenagers and the folks nearing retirement, the ones in middle age, the folks who are there every week and the ones who rarely show up.  Remember the folks in your neighborhoods too, old, young, and in between.  Hold all of these in mind, and share the gifts they bear and the questions they might ask with the rest of us along the way.  Also be sure to listen closely to the voices of those who have come here from other congregations, so that you may come to care about their home places, too. 
Given the expansive character of our theme, it's easy to imagine many different congregations and projects that could broaden and deepen our perspectives on this set of concerns.  We have only seven—a small number, but also one with rich biblical resonance.  Taken together, you are exploring matters of great interest and great urgency to the wider church.
The affirmation that the church will worship God "from generation to generation" is not an assertion that we can always capably strategize to do so, by coming up with just the right program or liturgy or the perfect blend of music, even though such pursuits do deserve our very best efforts.  Instead, it is a declaration of trust in God as "our dwelling place in every generation," as Psalm 90 puts it.  Our theme verse from Psalm 79 comes from a psalm of lament, not a psalm of victory.  It is set in a time of suffering: through most of the psalm, the broken-hearted psalmist describes the destruction that has come upon the people.  Near the psalm's end, however, the psalmist imagines the restoration God will surely provide.  And this is what it looks like:  "Then we your people, the flock of your pasture, will give thanks to you forever; from generation to generation we will recount your praise."  The people's worship of God from generation to generation is their response to God's own faithfulness across time.
We are a small company, each with our own distinctive foibles and gifts.  We have come to this seminar from our own positions in the flow of time from generation to generation.  I know that one of us is the parent of an infant born just last month, and that another is the adult child of an ailing mother.  Some of you are fairly new in your positions, while others have served for decades.  And we come from several historical age cohorts.  But here, by God's grace, we will also become a new community.  In this seminar, we will not only talk about worship.   We will actually worship—not as an object lesson or demonstration, but because we need to bring the matters that concern us, we need to bring our very selves, into the challenging, gracious presence of God.  As we explore our lives in time, we will share scripture, song, and prayer that have come to us from prior generations.   We'll also share texts and tunes that are very new.   We will remember our trust in God's faithfulness from everlasting to everlasting.  We will lift the needs of those who are old and those who are young to God in prayer.  And we will worship God with praise and thanksgiving—for the God-given life of all creation; for the reconciling life, death, and resurrection of Jesus Christ; and for the new life the Spirit continues to blow into the communities represented at the seminar and other communities all over this blessed, beautiful earth.  May God bless our conversations here, and may God bless the congregations from which we have come and to which we shall return.